Plateau of Nida, Mt. Ida - photo © Ch. Almpantakis
Habitats in Crete – Mount Ida (Psiloritis)
Mount Ida (Psiloritis) and Kretania Psylorita – The Butterfly
Kretania psylorita (Cretan Argus), is a Cretan endemic butterfly that can be found on just two mountain massifs of the island at altitudes of 950-2,150 m. It flies in Dikti but mainly in Psiloritis where is quite common.
This small endemic to Crete butterfly lives in extremely rocky places and dry slopes with almost no vegetation. Its larva feeds on Fabaceae plants (Astragalus angustifolius).
Kretania psylorita flies between May and June. According to IUCN Red List of Threatened Species, Kretania psylorita is considered as Least Concern (LC).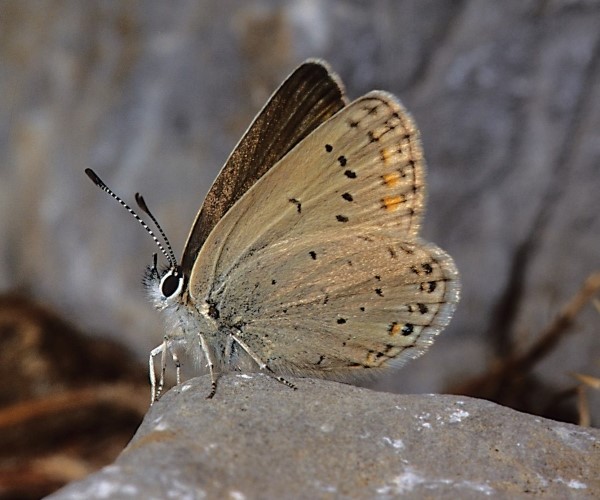 Kretania psylorita – photo © L.N. Pamperis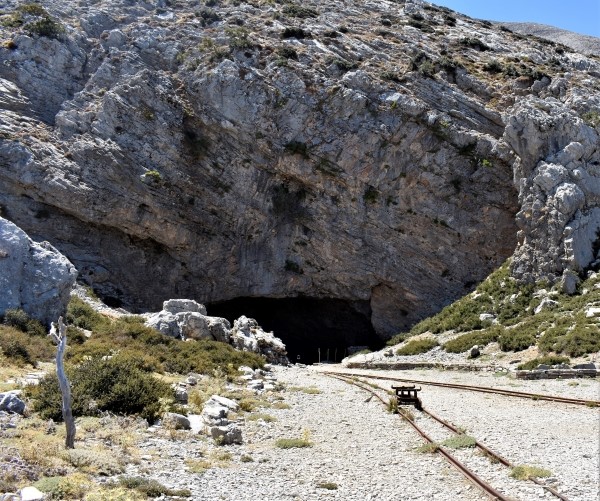 Idaion andron, mount Ida – photo © Ch. Almpantakis
Mount Ida (Psiloritis) and Kretania Psylorita – Location
The heart of the entire Crete beats in the roots of the ancient mountain of Ida (Psiloritis). This mountain is located in the municipality of Anogia, and is narrowed with just a few peaks, the highest of all is reaching 2.456 m being also the highest of the island.
Snow covers the main mountain chain almost the whole year through. Between the peaks spread coombs, gorges, and plateaus. Nida is the larger plateau in Psiloritis hosting at its side Idaion Andron, the cave in which, according to the myth, Zeus grew up.
Psiloritis Geopark was founded in 2001 and due to its rich geodiversity, its beautiful scenery, and its history and tradition, Psiloritis Natural Park was included, from its early foundation, at the European Geoparks Network, and later at the Global Geoparks Network.
Mount Ida (Psiloritis) and Kretania Psylorita – Geotopes and Biodiversity
The "Karstic landscapes of Psiloritis", except for the caves that occur everywhere in the geopark, are comprised of small surface cavities, sinkholes, and potholes, as well as larger depressions like the dolines and plateaus of the Nida and Petradolakia areas.
In many places, the absolute lack of soil and domination of limestone rock create impressive and weird sceneries. In the "Karstic landscapes of Psiloritis", visitors will meet all of these strange structures and will be captivated by the unique landscape and variety of life.
Psiloritis is considered an internationally important area due to its unique biodiversity. The rare soil of the plateaus hosts many typical species of Psiloritis' flora and fauna. The most impressive is the very rare Horstrissea dolinicola (one of the four endemic genera of Greece) which grows only in small dolines around Skinakas, and the endemic butterfly Cretan Argus (Kretania psylorita) which in spring flies in the small plateaus of the Psiloritis mountains.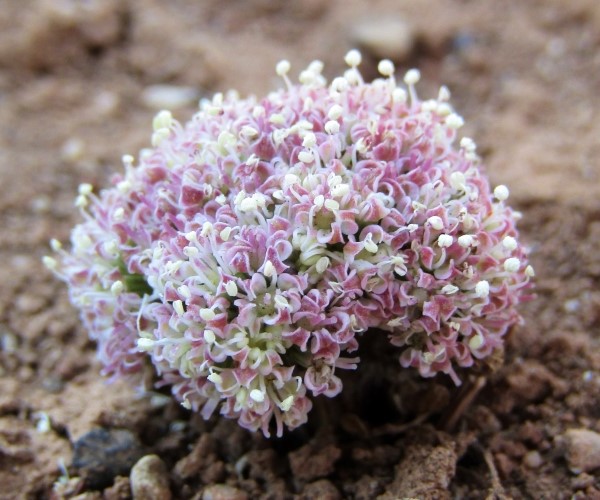 Horstrissea dolinicola – photo © K. Bormpoudaki