Karteros Gorge - photo © K. Bormpoudaki
Habitats in Crete – Karteros Gorge 
Karteros Gorge and Zerynthia Cretica – The Butterfly
Karteros Gorge is characterized by the richness of its natural, geomorphological, and cultural features. The flora of the gorge includes hydrophilic species such as plane trees, willows, cypresses, Quercus coccifera, and Vitex agnus castus, as well as many endemic wildflowers, herbs, and rich fauna.
Additionally, the visitor will be also impressed by the variety of butterflies flying all over the gorge. Of particular interest is the Cretan endemic butterfly Zerynthia cretica; several adults can be easily spotted flying in the gorge.
Zerynthia cretica is on the wing from the early spring until June and is more active in the morning. It can be seen flying either slow or fast, frequently stopping for nectar, and basking with open wings on bushes, grasses, even on the ground.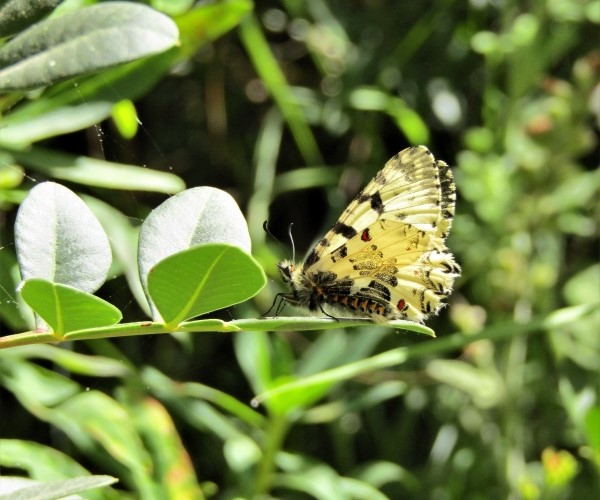 Zerynthia cretica (endemic) – photo © K. Bormpoudaki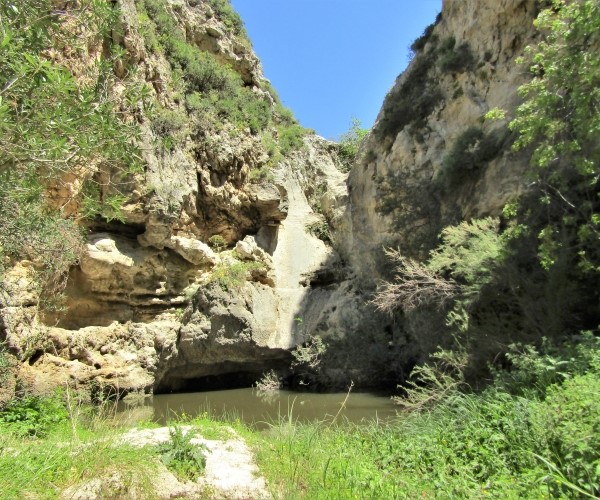 Karteros gorge – photo © K. Bormpoudaki
Karteros Gorge and Zerynthia Cretica – Location
Karteros Gorge is located 12 km east of Heraklion, south of the village Karteros. It is integrated into the wider area of the Ecological Park of Giouchtas, in Archanes. With a total length of 12.5 km, Karteros Gorge starts from the village of Kato Astraki, crosses the mainland, and ends up in Karteros Beach. In the green bed of the gorge and along the route, the Karteros River flows.
In the middle of the gorge, the landscape is outstanding, due to the spectacular geological formations of the rocks in combination with the rich flora. In the gorge, there are several old buildings, such as old chapels on the rocks, old watermills, small waterfalls.
The cave Neraidospilios is also located there. Legends say that fairies were living in this cave in the past, seen by the villagers several times before. According to the archaeologist Paul Faure, it was the sanctuary of the "Tritogenia Athena", named after the ancient name Triton of the river Karteros.